LEARN HOW THE GAME WORKS
Game Overview
RPG Battles: The Card Game is a cards & dice strategy game. Fight monsters, snag treasure, and outlast your buddy.
Draw cards to equip your Character with weapons and magic to survive battles with fearsome monsters. It's the world's fastest roleplaying, cards, and dice game ever!
Easy to learn! The rules take less than 5 minutes to read. There's no complicated preparation – just open the box and play!
It takes more than luck to win. Use strategy to increase your odds of success, and snag victory from the grasp of your buddy.
After all, you don't have to outrun the Minotaur… you just have to be faster than your friend.
EASY TO PLAY
Game Features
CLICK TO JUMP TO ANY SECTION OR SCROLL FOR DETAILS
Grab the treasure, equip your Character, and slay the monsters. Survive if you can. The last player standing wins the game!
Choose your Character: Fighter, Monk, Paladin, Rogue, Ranger, or Sorceress. Then do your best to outlast the other players to win!
Monsters stand between you and victory! Use strategy and tactics to fight or run. Survival depends on the choices you make.
The cards you seize can help you survive, making you stronger, faster, and harder to kill in a fight for survival.
Grab the loot and avoid the traps as you race to claim the benefits of unknown treasure to aid you in your quest for survival.
The strategies and tactics you employ will determine your fate. Conquer your foe with a well-placed strike!
WHAT IT'S ALL ABOUT
Game Objective
GAME OVERVIEW
In RPG Battles: The Card Game, you play the role of an adventuring Character. Your fellow players also control Characters, and the goal of the game is to be the last one standing.
In the course of the game, you draw cards to better equip your Character with weapons, armor, and spells that will help you survive encounters with fearsome Monsters who are intent on killing your Character and removing you from the game.
Based on d20 Open Gaming Content, RPG Battles: The Card Game is Pathfinder Roleplaying Game compatible. Best of all, the rules are easy to learn and you can be up and playing in less than five minutes.
Age 14+
2 – 6 players
Game time: 20-30 minutes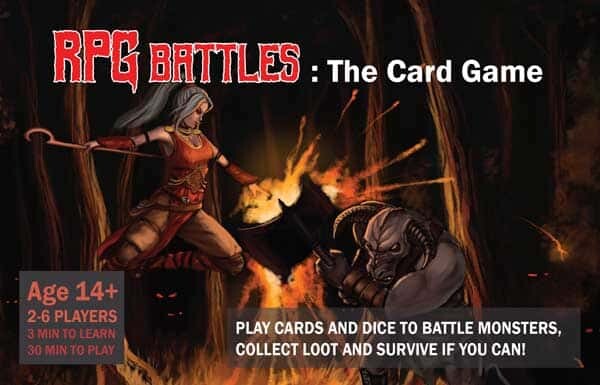 SIX CHARACTER CLASSES TO ROLEPLAY
Characters
CHARACTERS
In RPG Battles, each Player controls one Character, and uses the Character's weapons, armor, magic, and other cards to battle Monsters in a series of encounters. The last Character standing wins the game!
During the initial setup, Players may select from among six different character classes to roleplay. During the course of the game, you will draw cards that may be used to better equip your character, upgrade weapons and armor, and use spells and magic to fight battles to the death.
MEET THE CLASSES
RPG Battles: The Card Game consists of six different character classes.
CHARACTERS
Each Character represents an adventuring hero. As the Player, you select a Character that best represents your adventuring style:
The Fighter: the penultimate adventurer, Fighters often form the backbone of an adventuring party. A heavy-hitter, the Fighter is proficient with all the weapons and armor of the adventurer's trade.
The Monk: Monks are masters of the martial arts, attacking with fists, kicks, and blows that are lightning-fast. Stoic by nature, the Monk surveys his opponent finding weaknesses to exploit with deadly effect.
The Paladin: Paladins champion law and order, standing up for the weak, and always in search of justice. When crossed by their enemy, however, the Paladain serves as judge, jury, and executioner.
The Ranger: this Dwarven adventurer is an outdoorsman by nature, deadly-accurate with ranged weapons like the crossbow, or melee weapons like the battleaxe. Dwarves hold no love for Goblins and Orcs.
The Rogue: Elven dexterity makes Rogues deft swift with attacks that cripple opponents. Never underestimate a Rogue, as their rapier is deadly-accurate in melee combat, and their dexterity makes them difficult to hit.
The Sorceress: never underestimate the Sorceress on the battlefield. Woe be the Monster who succumbs to her magic!
THE MONSTROUS HORDE AWAITS
Monsters
MONSTERS
Every great conflict requires an enemy, and in RPG Battles: The Card Game, the monstrous horde is on the attack. Encroaching upon the civilized world, the Monsters of RPG Battles wish to kill every human, elf, and dwarf they encounter in a fight to the death.
During your turn, if you draw a Monster card, a battle begins! Each hit scored by Character and Monster reduces the other's hit points. If you have no hit points left, your Character dies and you're out of the game.
MEET THE MONSTERS
There are 8 different Monsters in RPG Battles: The Card Game. Each has unique attacks that make them formidable opponents in battle.
MONSTERS
Surviving a battle with these fearsome beasts requires more than luck! Equip your Character with better weapons and armor, and use magic to avoid being hit, or land more blows. Then, use strategy to outlast your opponents and survive as the last Character standing to win the game.
Bugbear: an ugly creature with freakish fur and large, floppy ears, the bugbear is the largest of the goblinoid races. A lumbering brute, they attack without mercy. Humans are a bugbear's favored prey.
Crypt Thing: an undead creature who is found guarding tombs, graves, and crypts, shreds of leathery flesh cling to its skeletal figure, while its twin motes of fiery light glow deep in its eye sockets.
Ettercap: this hideous purple creature walks upright like a man, but its face is that of a spider, and its hands are sickle-shaped claws. Usually solitary, they may employ monstrous spiders as lookouts and guardians.
Giant Spider: this fiend is the size of a man, and often crawls silently from the depths of its underground funnel web to attack without warning. Beware the giant spider's poison!
Krenshar: beware the howl of the krenshar; an earless, panther-like beast that peels back the skin of its face to reveal the bone and flesh beneath. Its strange, keening wail is often enough to paralyze prey and send formidable opponents running.
Minotaur: nothing holds a grudge like a minotaur! Nimble and confident, they stalk their prey, including humanoids, in the wilds. Don't be fooled: the glazed bovine eyes of this beast betray a feral cunning that it uses to its advantage.
Wererat: this hunched creature looks like a human in studded leather armor, but fur covers its body. Its rat-like face snears as the wererat strikes.
Wolf Skeleton: skeletons are the animated bones of the dead. Turned into mindless automatons that obey the orders of their evil masters, the wolf skeleton fights to the death.
DOZENS OF COMBINATIONS
Cards
THE CARDS
In RPG Battles: The Card Game, players take turns drawing cards. Each card has unique qualities: some allow you to upgrade your weapons or armor, while others represent powerful magic enabling you to avoid Monsters or do more damage during battle. Some even allow you to heal hit points lost in fights with fearsome Monsters.
Players are allowed to hold no more than five cards in their hand at any time. Use strategy to equip your Character, discard cards that are not useful to you, and use cards to improve your chances of success!
WHAT'S YOURS IS MINE
The cards you hold in your hand can make the difference between life and death for your Character! So don't just rely on luck to win: steal cards from your fellow Players, too. Cards like Alms, and Pickpocket allow you to obtain cards from your fellow Players. Who knows? You might just pick up an extra Raise Dead card, thus ensuring your future, while depriving your opponent of the same. But you better watch out: what goes around comes around in RPG Battles: The Card Game.
WATCH OUT FOR THE UNEXPECTED
Traps
DANGER DANGER EVERYWHERE
Monsters are not the only danger that threatens the health of your Character in RPG Battles: The Card Game. If you draw a Trap card, you set it off and must attempt to avoid losing hit points from damage.
But Traps don't just affect you: Each Player to the left and right of the Player who drew the Trap card may also be hit by the damage the Trap inflicts.
TRICKS, TRAPS & TREASURE
Adventuring is like a box of chocolates; you never know what you're going to get.
VICTORY OR DEFEAT AWAIT YOU IN
Battle
FIGHT TO THE DEATH
When a Monster card is drawn, a battle begins. The Monster attacks the Character of the Player who drew the Monster card. Another Player plays the Monster during battle.
To attack, Players roll a 20-sided die and add any weapon modifiers to their Base Attack bonus listed on their Character card.
If the result is equal to or higher than the Armor Class of the defender, a hit is scored, and the defender loses a hit point.
PLAY WITH 2-6 PLAYERS
You can play RPG Battles with as few as 2 Players and as many as 6.
Family-friendly, RPG Battles: The Card Game is suitable for ages 14 and up, and a typical game lasts 20-30 minutes, depending on a variety of factors.
WHAT PEOPLE SAY
Customer Reviews
RPG Battles scratches my itch for role-playing, but without all the work of dreaming up adventures and configuring characters. A fast way to fight beasts and live to tell the tale.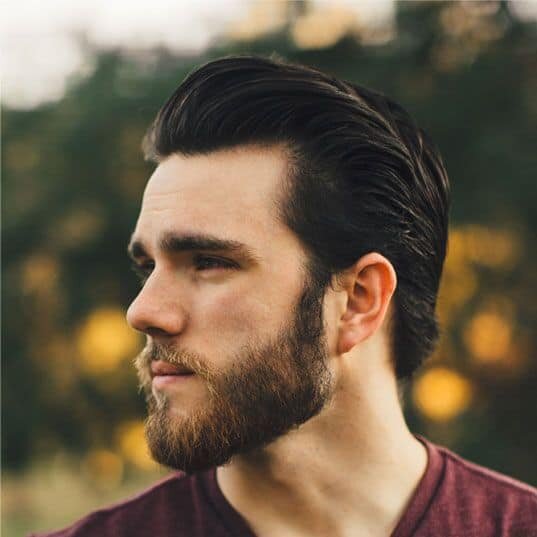 Between career and friends who've moved, it's hard to find the time for a full-on adventure. But I can play RPG Battles with 1-2 friends at any time. It's off-the-shelf fun!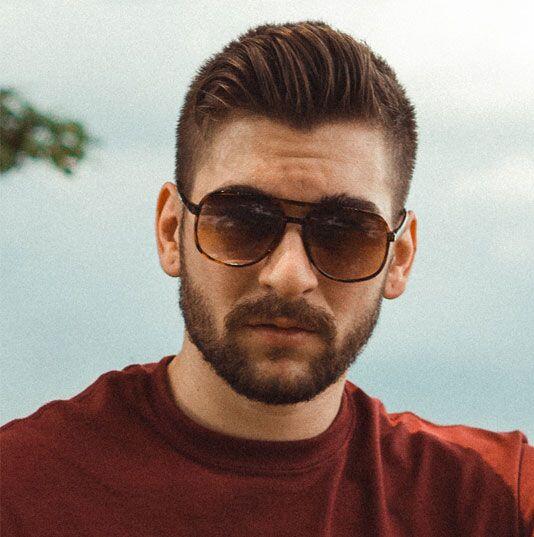 LOL, RPG Battles is a "gateway game" to role-playing. It got me hooked on combat, taught me a streamlined set of rules to get started, and I learn more each time I play.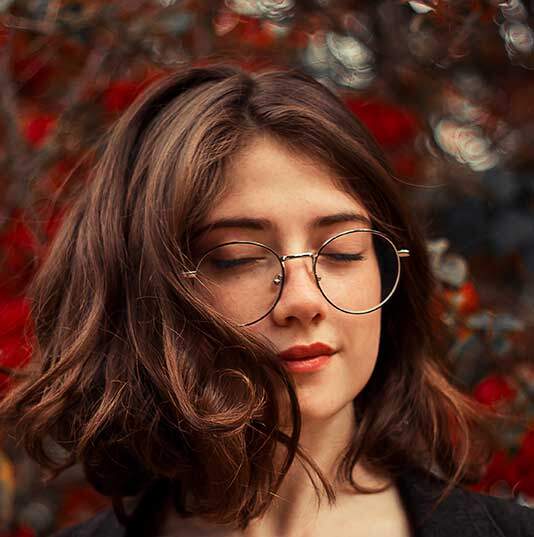 PROFESSIONAL GAMING SITE REVIEWS
Third-Party Reviews
WATCH VIDEOS AND READ PROFESSIONAL REVIEWS
The videos and links below are from professional gaming sites who review tabletop board and card games. Take a look at what they had to say about RPG Battles: The Card Game.
DAD'S GAMING ADDICTION PREVIEW